Paper soccer ball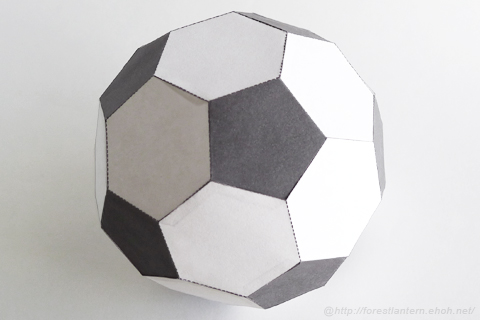 I made a paper soccer ball deployment diagram. The deployment diagram can be downloaded for free.
It is recommended to make it from thick paper. You can also play indoors, also it can also be used as an interior.
Please download the deployment diagram, and create while watching how to make.
Please be careful of injuries. Also, when young child create a paper craft, please make it with an adult.
When downloading with Android or iPhone, hold the download link and select save.
Please connect to a line with no traffic limit such as Wi-Fi before downloading because the capacity is large.
Depending on the environment, it may be necessary to install PDF viewer such as "Adobe Acrobat Reader(mobile app)".
Download deployment diagram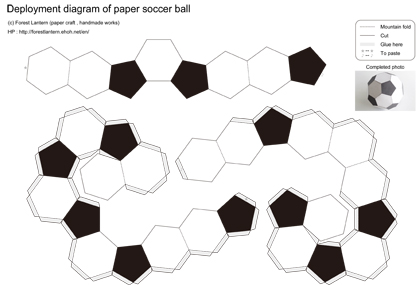 How to make
Please print the downloaded deployment diagram.
The printed side, becomes the front side.
Cut out along the solid line.

Follow the dotted line, please mountain fold.

The same marked (★-★ and ♪-♪) please paste.

Please paste the margin with glue from the edge.